Jeremiah Johnson blends the sounds of the south, with Mississippi River blues and a touch of country flair. Emotionally charged southern rock, powered by the common man's passion for life and all the struggles in-between. Songs with meaning, a powerfully persuasive voice and master class musicianship.   
Jeremiah Johnson has been writing original music for decades and continues to polish his art through consistent rehearsals and tireless touring. Though born and raised in St. Louis, Missouri, he seasoned his songwriting by spending a decade on the Gulf Coast of Texas, working hard at making a name for himself as an original roots and blues-rock artist. Boasting six top 10 Billboard Blues charting Albums, Johnson can deliver all night long.   Johnsons' world class band is well known for being one of the tightest live acts on any stage and can put on a show that you won't soon forget.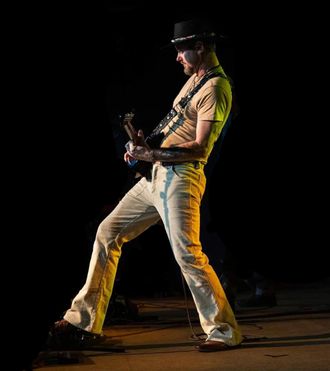 Jeremiah Johnson - HI-FI DRIVE BY released October 21st 2022 via Ruf Records, feat. Victor Wainwright and Brandon Santini. 
. 
#6 - Billboard Blues Album Charts. (11/15/2022) 
#1 - Billboard Blues Album Charts. (11/8/2022) 
#7 - Billboard Blues Album Charts. (10/21/2022) 
 #4 - iTunes Top 40 Blues Albums. (10/21/2022) 
2022 Blues Music Award Nominee for best Blues-Rock Album of the year - Unemployed Highly Annoyed.
Winner of "Best Modern Roots CD 2020" - Independent Music Awards - 9-15-20 
Nominated "Best Rock Blues Album" – Blues Blast Awards –"Heavens to Betsy"  – 2020 
Nominated "Best Modern Roots CD", "Best Blues Rock Song – American Steel" and "Best Modern Roots Song – Leo Stone" – Independent Blues Awards – "Heavens to Betsy" - 2020 
"Heavens to Betsy" #1 on the Billboard Blues Album Charts – 4-11-20  
"Heavens to Betsy" #1 on the European Blues Album Charts - 4-8-20 
"Heavens to Betsy" debuts #3 on the Billboard Blues Charts – 3-21-20 
"STRAITJACKET" debuts #6 on the Billboard Blues Charts - September 2018 
"STRAITJACKET" debuts #1 on the iTunes New Blues Album Charts – September 2018 
"BLUES HEART ATTACK" #5 on the Billboard blues charts - August 2016- 
"BLUES HEART ATTACK" nominated for INDEPENDENT BLUES AWARDS "Best Contemporary Blues Album" - August 2017 
"Sunshine Through" from BLUES HEART ATTACK nominated for Best Funk Song by INDEPENDENT BLUES AWARDS - August 2017 
"BLUES HEART ATTACK "nominated for Blues 411's Jimi Awards Rock/Blues Release of the Year - December 2016 
"Black Lingerie" from "GRIND" won Best Blues Rock Song in 2016 Independent Blues Awards - June 2016 
"GRIND" reached the #8 slot on the Billboard Blues Charts - November 2015 
Released full length docu-concert, RIDE THE BLUES - September 2014- 
Won St. Louis Blues Society's International Blues Challenge and went on to the semifinals representing St. Louis in Memphis - February 2011